All Aluminum Radiator For Infiniti Q40 Q60 3.7L 2014-2015(with condenser) AT/MT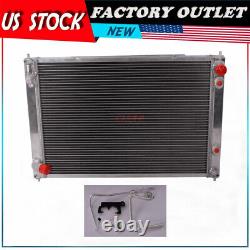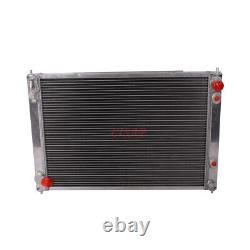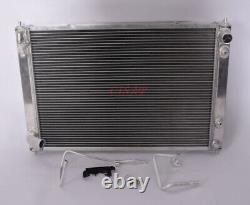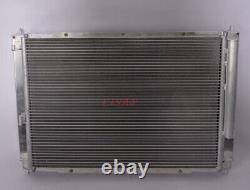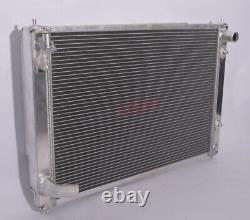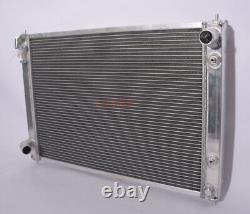 This all-aluminum radiator provides maximum cooling efficiency and prevents premature engine failure. The advantages that are heat transfer aluminum using tube and fin design can significantly increase the heat surface area, so that heat more efficient dissipation. It's built tough for improved reliability, airflow, and cooling. OE matching quality designed, manufactured and thoroughly tested according to OE requirements. Easy installation perfect finish and direct fit, enabling a quick and smooth product installation. 2015 Infiniti Q40 Radiator & Condenser Assembly. 1: Match the vehicle in the compatibility diagram. 2: Match overall dimensions to original parts. 3: Match the original part of the photo.
100% Brand new, never mounted. DPI:13004 Type:Radiator+Transmission cooler+condenser+Accessories in the picture Core Size:25" x 17 2/3" x 1" Overall Size:29 1/8" x 20 " Import:1 3/8" export:1 3/8 Rows:1 Oil Cooler:Include condenser: Included Transmission. It will work both with Manual and Automatic transmission. For manuals, leave transmission prongs unplugged.
According to OE design, ensure accurate fit, form and function, easy to drop installation; -Built with high density multi-lowered fins for maximum cooling efficiency; -ISO 9001 certified manufacturing plants; -Direct Replacement; -Improve Cooling Efficiency; -100% Leak Tested; -Aluminum tanks with aluminum core; -Built to strict quality control standards. How to replace the radiator. Drain the radiator fluid into a suitable container. Remove the old radiator: -Take off any plastic covers around the radiator.
Disconnect the electrical connector to the fan, and unbolt and remove the fan assembly. Disconnect the radiator hoses from the radiator.
Disconnect the transmission cooling lines from the bottom of the radiator. Remove any clamps, brackets, or screws holding the radiator inside its frame. Lift the radiator up and out of the car. Install the new radiator: -Slide the new radiator into place.
Connect any clamps or brackets that hold the radiator in place. Connect the transmission cooling lines carefully. Connect the engine cooling hoses to the radiator. Replace the fan and fan shroud. Reconnect the fan electrical connection.
After loading the product on your vehicle and adding the coolant, tighten the rotary cover and leave your vehicle idling for 10-20 minutes. After completely cooling the coolant, open the cover and fill the product with coolant. Please make sure there is no gas in the product.
Check your work to make sure that there are no leaks. (Tools need to be prepared: Screwdrivers, Wrenches, Drain pan) Note: Do please keep children and pets away when replacing the radiator. Start the vehicle, to rise to normal temperature. Slowly open the tank cover, the fluid shake from the tank after filling the mouth, the cleaner can be mixed with any brand of coolant. Idle running not less than 15 minutes, not cleaning vehicles not less than 30 minutes for two years. And then discharge coolant, flush water tank, until out of clear water, suitable for any water cycle system. After cleaning, after waiting for pipeline rehabilitation add fluid to water tank, and inject new coolant and water purification. Add detergent if the tank is too full can take some antifreeze. Before you place an order, please confirm whether the product model meets your needs.
Any product you return must be in the same condition as it was received and kept in its original packaging. We with excellent quality, preferential prices and dedicated service your satisfaction, your satisfaction is our biggest motivation! We will do the same for you automatically. Our goal is to make you a happy customer. Our company was founded in 2002, engaged in the production and sales of auto parts, has its own factory, manufacturing equipment level, production technology level has entered the international first-class, is a set of design, manufacturing, sales as one of the professional auto parts supplier.
Our customers include mainstream European, American, Japanese and proprietary brands. Supporting models include high-end cars, heavy trucks and passenger cars.
Products are exported to Europe, America, Japan and other countries. We have a full range of high quality products and preferential prices to meet your needs. And more, Our own team can design and make new designs based on your original samples, new entrant are also welcome. We also accept wholesale orders. We have 3 warehouses in the US.