3W Floor Mats All Weather Custom for Land Rover Range Rover Evoque 2011-2019 TPE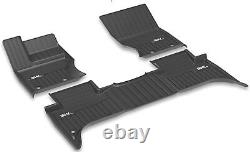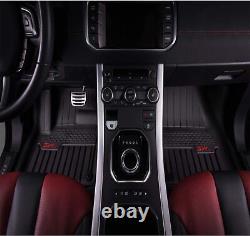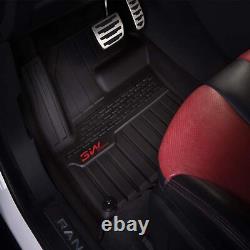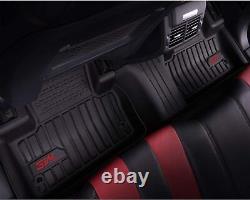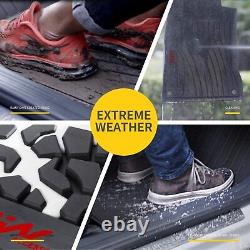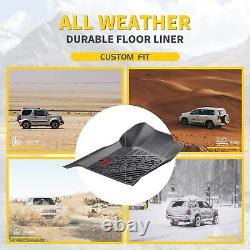 Comprehensive and perfect design, maximum coverage and protection TPE (thermoplastic elastomer) material ensures greater strength, toughness, durability and elasticity. Top Quality, stain-resistant, 100% odorless and Non-toxic protection that gives your car, van, truck, or SUV interior a first class look and protects your vehicles carpet floor while protecting the resale value. Which include the package can make the mats and the floor perfectly fit, it will more non-slip than ordinary foot mats. Textured skid-resistant surface of the liners is easily cleaned by wiping clean, hosing off, or simply using soap and water for a tough mess. All weather guard against Snow, Mud, Sand, Salt Water and so on. American design, our design, our design heart is only for your taste, the winner of the Reddot Award 2017 is always by your side? Placement on Vehicle:Front, Rear, Right, Left (Coverage for First Row and Second Row Seats Only). 2pcs x Front liners (Driver & Passenger Side) & 1pc x Rear liner. Welcome to 3W Floor Liners.
We are committed to providing you with top quality floor liners. Our custom fit floor liners are designed to provide protection, comfort, safety, style and enhanced performance for all cars, trucks, SUVs and vans. 3W Floor Liners' core belief is to always put our customers best interest in the first place. CUSTON FIT & DESIGN--3W floor mat adopts micron-level 3D measurement technology, which can accurately measure the edges and corners of the vehicle.
Design details and textures in line with the Ford philosophy, it fits your car perfectly. ECO-PROTECTION & SAFE--The raw materials for 3W floor mats are all imported from Sweden HEXPOL, who is the VOLVO's car original TPE supplier.
Its TPE material is the highest quality among all TPEs, obtained European EP certification. FLEXIBLE and DURABLE--Through the high quality materials and manufacturing process, enables the 3W floor mats to be more flexible and durable. With the 3W floor mats are built to last and you will never have to replace them unless you change your car. 100% HEARTFELT SERVICE--3W's core belief is to always put our customers best interest in the first place. 7/24 On-line service are provided to help solve any problems for you.
TPE is 300 times better temperature resistant than PVC. The 3W TPE floor mats can remain flexible in extreme weather and offer protection against outside variables, such as mud, liquid and snow. The raw materials of 3W TPE floor mats come from HEXPOL, who is the VOLVO's Original TPE Supplier. The highest quality, casting the healthiest mats. 100% safe and 100% odorless. Custom Fit and Perfect Fit. Custom design constructed using innovative vehicle 3D scanning technology ensures the perfect fit to protect your vehicle's carpet floor from the weather, spills, and any messes. Easy to clean and install.
The mats are Waterproof, easy to install, clean and maintain. After hosing and drying with a dry towel, all the dirt will be removed.
The liners will look brand new again. 3W car mats are the ideal choice to protect the resale value of your vehicle. Welcome to 3W Floor Liners! 3W stands for Wonderful, Worldwide, Worthy. We are a company manufacturing floor liners with 25 years of history.
We are the first company in this filed to use TPE and injection molding to manufacture floor liners. The traditional floor liners are made by compression molding, which does not allow for many details, causing the floor liners to be rigid and stiff. 3W floor liners, on the other hand, are resilient and durable. Our unique molding makes it possible to design floor liners with more vivid details. 3W floor liners are designed with different patterns fitting the style of different models of cars. To avoid initiating an unpaid item claim, please pay within 7 days. If you don't get it, Don't worry!
We will be happy to help! We will solve the problem asap! We always put our customers first and your satisfaction is guaranteed. Thank you for your understand!