CAT Multi-layer Pickup Truck Cover Waterproof All Weather Outdoor Full Size 264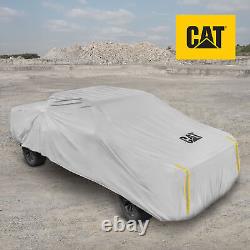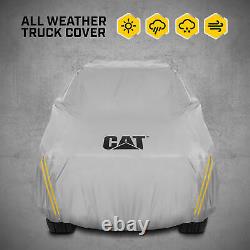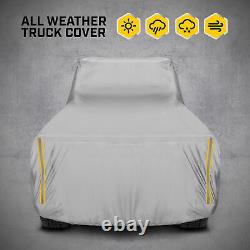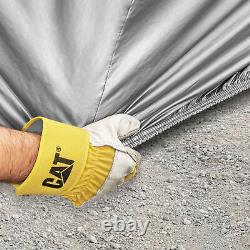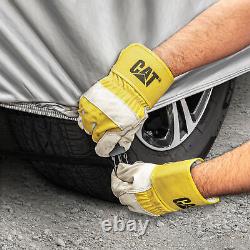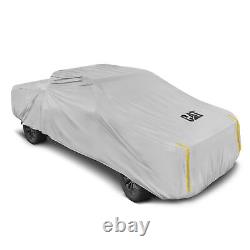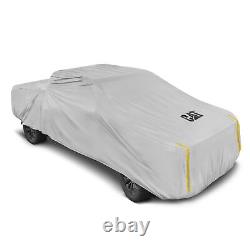 Follow us on social media. IN ALL 48 CONTIGOUS STATES. WE BRING THE LATEST ITEMS. Multi-layer waterproof all weather protection. Guard against rain, snow, mud, dirt, bird droppings. Breathable fabric fights off rot, mildew, and corrosion. Cozy mid-layer insulates your car against hot and cold weather.
Soft non-scratch inner fleece lining. This car cover will protect your vehicle from all weather conditions. Constructed with multiple layers and is 100% waterproof to guard against snow, rain, mud, liquids, and bird droppings.
Has a soft inner lining that won't scratch your car's paint. Multi-Layer Composite Material Truck Cover Engineered to Protect Your Vehicle. Reinforced Material - Multiple Heavy-Duty Layers with Enhanced Compounded Comfort Layer, Breathable Woven Polyester & More.
Protection Inside and Out - Sealed Scratch-Proof Lining for the Interior & 100% Waterproof, Durable Lining for the Exterior. All Conditions - Preserve your Vehicle and Paint Against All Rain, Snow, Sun, Bird Droppings, Dust/Dirt - Approved for All Season Use (Spring, Summer, Fall, Winter). 6 Layer Protection: (1) Outer Breathable Film, (2) Outer EVA Waterproof, (3) Waterproof Sealant Layer, (4) Particle Filter Film, (5) Enhanced PE Compound Foam Comfort Layer, (6) Inner Scratch-Proof Fleece Lining. Our team works hard for you. Because we have such great relationships with our vendors and manufacturers.
However any perishable goods such as Airfreshner and etc. Any orders destined for HI, PR, AK and non-contiguous US states will incur small extra cost. However we cannot guarantee changes after the mentioned cutoff time. If the product different from what we have described? If the size is or fitment guide is wrong? Order buyers are responsible for returning the package.
Please always verify the address during checkout. Please ensure that the item matches your desired fitment. Fill out Return Materials Authorization form (We will send it to you). WARNING: This product contains chemicals known to the State of California to cause cancer and birth defects or other reproductive harm.
Return is allowed except for the following reasons. Incorrect or invalid quantity entered. Invalid address or unmatching information. The following items must be included when returning. Package or item must be in original condition and must be used. Must be within contiguous 48 US States. Must provide a valid reason for return. Your One-Stop Shop for the Best in Auto Accessories. Seat Covers, Floor Mats for Cars, Trucks, Vans & SUVs available in hundreds of varieties of patterns, styles and materials.