Kenworth Heater Box Assembly HVAC Box Includes All Parts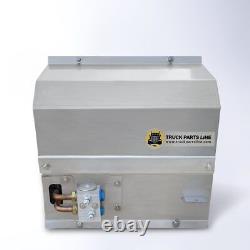 Kenworth Heater Box Assembly - HVAC Box Includes All Parts. Always in stock for less downtime! Kenworth Stainless Steel Heater Box Assembly, Includes All Parts, compatible with the Kenworth T600, T660, T800, W900, W900B, W900L. 100% Stainless Steel Outer Box. High quality, 100% Stainless Steel Kenworth HVAC Box made by Truck Parts Line comes with: Stainless steel box, Coil Heater, Expansion Valve, AC Evaporator, and Improved Blower Motor.
Kenworth Stainless Steel HVAC Box- Heater/AC Box Assembly. This high-quality assembly is specifically designed for seamless compatibility with Kenworth T600, T800, W900, W900B, and W900L models. Proudly manufactured by TPL, our HVAC Box is constructed using 100% Stainless Steel, ensuring durability and longevity. This assembly serves as an excellent replacement for failing or aging Kenworth cab airboxes.
Stainless steel box - Coil heater - AC evaporator - Expansion valve - Thermostatic switch - Improved blower motor. Unlike the OEM Kenworth heater box assembly that is prone to rusting in wet conditions, our stainless steel air boxes are rust-free and built to withstand endless miles of usage. Dealer inquiries for this product are welcome! We offer the largest selection of truck parts to make sure we have what you need.
We can supply and replace whole radiators, charge air coolers, AC parts, compressors, and condensers for all of truck makes and models including Ford, Freightliner, International, Kenworth, Mack, Peterbilt, Navistar, Sterling, Volvo, and Western star. Our Guiding Principles are Environmentally-Conscious-Engineering, Excellence and Understanding of Our Business, and Quality Customer Service. We take a lot of pride in delivering quality products backed by excellent customer service.
Must be in original package with all packaging material. 1000's Of Products Are Available Direct from Stock & Delivered Fast! We take customer feedback seriously. We would like to hear about your experiences with us and hope for all our customers to be completely satisfied with the process. It is unlikely for anything to go wrong.