WEBASTO Level 2 Portable EV Charger ALL Vehicles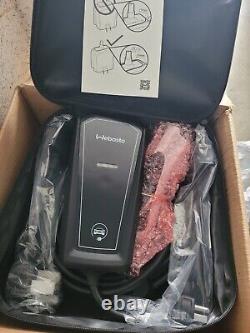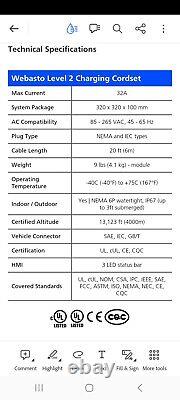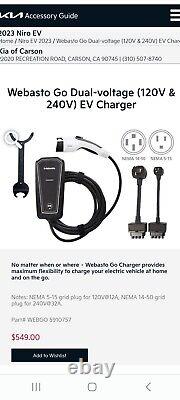 The Webasto Level 2 Charging Cordset is a premium mobile EV Supply Equipment compatible with all electric vehicles and complying with the requirements of major automotive OEMs worldwide. The design is customizable and deployed.
Weighing only 9lbs (4.1kg), the compact & lightweight system can be taken anywhere while enabling high power charging at up to 7.7 kW - a 5x faster than any standard level 1 cordset. This will add up to 30 miles of range per hour charged depending on your vehicle's efficiency. The swappable grid plug enables low & high-power charging in hundreds of countries across the world.
The Webasto Smart Plug Technology automatically determines and sets the correct power level according to global technical and legal requirements. Providing up to 32A charge current, the Webasto EV Charging Solution utilizes Intelligent Grid Plug Assemblies to allow safe charging anywhere. The cordset features multiple temperature monitoring points distributed throughout key system hardware and is designed with durable and rugged materials. It can be used safely in any weather conditions and environment, both indoor or outdoor. It features smart fault detection to ensure that the electric installation is secure.
Webasto Level 2 Charging Cordset. 320 x 320 x 100 mm. 85 - 265 VAC, 45 - 65 Hz. 9 lbs (4.1 kg) - module.
40C (-40°F) to +75C (167°F). UL, cUL, NOM, CSA, IPC, IEEE, SAE, FCC, ASTM, ISO, NEMA, NEC, CE, CQC.